The legends of Polly McMahon and John Smith to be remembered by all
Two SFCC faculty members pass on their legacy to the school.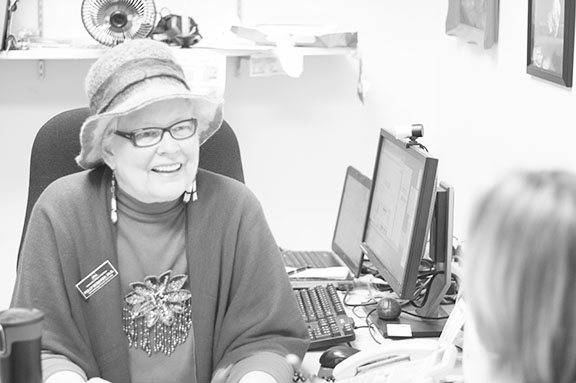 On Nov 8, Polly McMahon passed away from cancer. She had recently won Faculty of the Year for Community Colleges of Washington and was a social services and gerontology instructor at SFCC.
On Nov 6, John Carrol Smith passed away. He worked as a graphic design instructor at SFCC for 30 years, retiring in 2014.
"I think helping students that had lots of challenges and helping them become successful and getting their degrees would be her legend among campus," said Judy Noel, previous colleague and dear friend of McMahon. "She was involved with everything and did everything for everyone."
According to Noel, McMahon was the most influential faculty member on campus.
"Polly supported her colleagues and helped thousands of students," said Noel. "On her facebook, many students posted telling their stories on how they met her in the lowest part of their life and how she was a cheerleader for them till they graduated and even got their PHD."
John Smith didn't have much who knew him. Those who do had loving things to say.
"He had a love for his students," said Bonnie Brunt, visual and performing arts dean. "He attended the grad show for the design class and posted on his social media about how amazed the department has continued."
According to John Smith's facebook post after the grad show he connected with former students and that he cherished their fond feelings for him and was immensely proud of who they are and what they had become and that after all, that's why he did what he did with the department for 30 years.
"John worked with over 2,100 students and affected their lives to where they continued their education or finished their degree here," said Greg Stiles, graphic design instructor. "He was my mentor, resource, colleague and friend. He was humorous and patient with his students and with me and always cut to the chase in a humorous way."
According to Stiles, him, John, and Doug Crabtree were great friends.
"Big part of the program was due to John," said Crabtree, graphic design instructor. "He knew how everything worked and helped out many students. They would call him the Jedi master."
According to Connie Pittman, student achievement manager at SFCC, John was an asset to the program and the college for many many years.
"Personally he impacted my life in several ways, while managing the Program Review process I worked closely with John," said Pittman. "His sense of humor was only outdone by his desire to do what was best for the students in the program."
Both Polly McMahon and John Smith impacted students and faculty and have legends to be told to those who come to SFCC in the future.