By Bradley Warren
Nov. 5, Volume 47 Issue 2
Eating out on a budget is not always the easiest thing to do. From a quick bite to a formal sit down, we've got you covered. Everything from healthy eating to a quick cupcake the Spokane local eating scene has everything you need to enjoy a night out without regretting it the next day.
The very first step is putting the fast food down; Spokane has some great local food to sample.
All of the listed restaurants have specials on different days of the week, from $10 burgers to a mean cup of joe for $3. Spokane is all that and a bag of chips when it comes to the local food scene.
THE ONION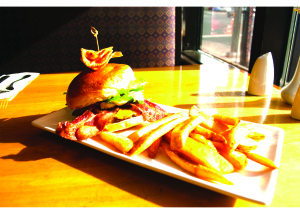 The Onion Bar and Grill, a local favorite since 1978 known for its onion rings and the Big "O" burger coming in at only $10.95 it's big and oh is it filling you will not walk away from The Onion hungry and that's a fact." I love the food, I always have a great time here," said Bella Connors, a local patron of The Onion.
THE SATELLITE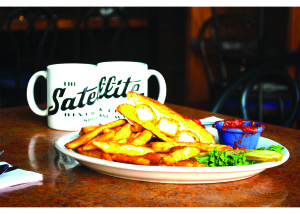 The Satellite, a local diner downtown has a wide range of foods from breakfast to burgers and everything in between.
The menu is as unique as the people who walk in the door, you can see people from all walks of life here with a friendly and welcoming staff you won't feel like you are in a diner but at home.
A favorite on the menu is The Cheese Bomb coming in at $10 and some change, but if you bring your student ID you can count on a student discount.
"Come see us,"  Kim Culberson Manager of The Satellite said. "We'd love to spoil you with really good food and great service!"
JITTERZ JAVA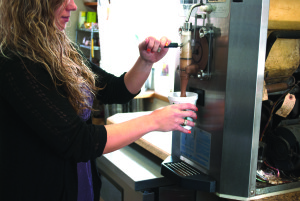 A mean cup of coffee can be found no more than a hop away from our main campus at Jitters Java. You can get a nicely made 16 oz granita for only $3, and on Thursdays you can get a granita upgrade; if you buy a 12 oz  granita you get a free upgrade to a 16 oz.
"They are the best granita ever,"  Jitters employee Krystal Cogswell said.
BORRACHOS
Who doesn't love Taco Tuesday? Our friends at Borrachos do! For only one dollar on Tuesdays you can get a street taco that will make you feel like you're partying it up on Cinco De Mayo in Mexico, but the party doesn't stop on Tuesdays.
Borrachos tacos are $2.50 every other night of the week! The busiest nights of the week at Borrachos are Fridays and Saturdays.
"Borrachos has great nightlife," says bartender Rachel Robison.
PIZZA RITA
Pizza Rita is beloved local pizza stop on our list. Over the last 25 years Pizza Rita has sold over hundreds of pizzas a day with the top grossing pizza being the world famous  pepperoni.
With 4 locations in Spokane you're never far from great pizza, with awesome specials and mouth watering freshly made pizza it's hard not to think you are eating pizza in Italy.
CELEBRATIONS CUPCAKES
Celebrations in the Garland District has cupcakes for $2.50 a pop it's a great deal but we will let you in on a secret. Every Thursday all cupcakes are one dollar!
Celebrations has been a local hot spot for Spokane since 2012. They've been pumping out sweet treats of all types from cake pops to cookies to the famous cupcakes they make, but don't forget your student IDs because on Mondays students and military get half off.
CASUAL FRIDAY DONUTS 
Nothing says Sunday morning more than fresh donuts. Casual Friday Donuts can help you make this sweet dream a reality from maple bars to pumpkin cakes you can get any kind of treat.
"The best seller is the maple bacon bar!" said Amy Allinger manager of Casual Friday Donuts. With all doughnuts being under $3 this sweet treat will not hurt your pocket book.  Allinger also wants you to know that they have vegan doughnuts every day.
WHITE BOX PIES
If you are on the hunt for a nice lunch stop then White Box Pies has several great sandwiches with gluten free choices, but the Turkey Croissant for only $9 is one mountain of a sandwich with cream cheese, mayo, cranberries, provolone, lettuce, and tomato, on a fresh baked croissant it will make you think you're sitting at the thanksgiving dinner table!
BOOTS BAKERY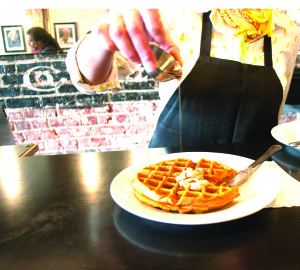 Boots Bakery offers a nice pumpkin spice waffle: a favorite among its patrons and even Macklemore. "All are welcome," says Alison Collins who owns Boots. Boots offers a great menu of vegan food and everything is under $10.
"Come and hang out for 3 hours and study," Collins said. All students  are more than welcome to come in, get some work done, and have a cup of coffee.
THE MILK BOTTLE
The Milk Bottle built in 1933 has a place on the historical landmark list and is a great place to get a milkshake. They've served=== up delicious lunches and dinners for the last 17 years in the Garland District, but the crowd favorite is the milkshake from chocolate to huckleberry they've got you covered and at only $4.75 it's hard not to love this sweet treat.