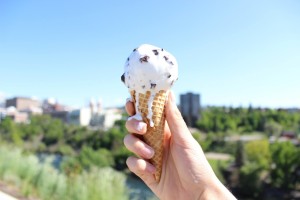 By Khay Burrage,
Both Allie's Vegan Pizzeria and Cafe, as well as Bennidito's Pizza, have various summer time specials open to the public.
On Hamilton towards the Northside of Spokane, Allie's cafe resides between Northtown Mall and John. R. Rogers high school. Allie's opened up recently as a small business bringing in new kinds of vegan dishes to Spokane.
Allie's serves more than vegan pizza. They also have cold dishes, coffee, beef, wine, fresh juices and in-house vegan dessert. Fresh and handmade dishes that are prepared the day before.
"The wild mushroom pizza has a delicious mushroom cashew cream base that has a creamy an earthy flavor," Monica Fredericks, a current employee at Allie's Vegan pizzeria, said.  "Also, the maple lemonade has organic maple syrup in it, which not only is sweet but adds a different flavor profile to the lemonade. It's classic lemonade but with a twist!"
Allie's pizzeria makes all of their dishes by hand preparing their own sauces, cheeses, mixing and kneading their dough making it not only healthy, but tasteful as well.
Another hot spot in Spokane, located on south Lincoln, is Bennidito's Pizza.
Heather Molvik, a local photographer who goes around to different local businesses  in Spokane.
"Bennidito's Pizza is a solid favorite of mine," Molvik said. "They have plenty of both normal and vegetarian options and provide large portions of superbly amazing pizza for reasonable prices."
"They also have a rotating tap, offering classic beer favorites as well as local brews from Spokane and the Pacific Northwest. The environment is family friendly earlier in the day, as the restaurant is nestled right into the lower South Hill neighborhoods."
The Inland Northwest is constantly growing and Allie's and Bennidito's are some of the many businesses in Spokane that are becoming go-to places.