Affordable​ ​Alternative​ ​for​ ​Outdoor​ ​Winter​ ​Fun
There​ ​are​ ​a​ ​myriad​ ​of​ ​possible​ ​adventures​ ​students​ ​can​ ​go​ ​on​ ​with​ ​snowshoes.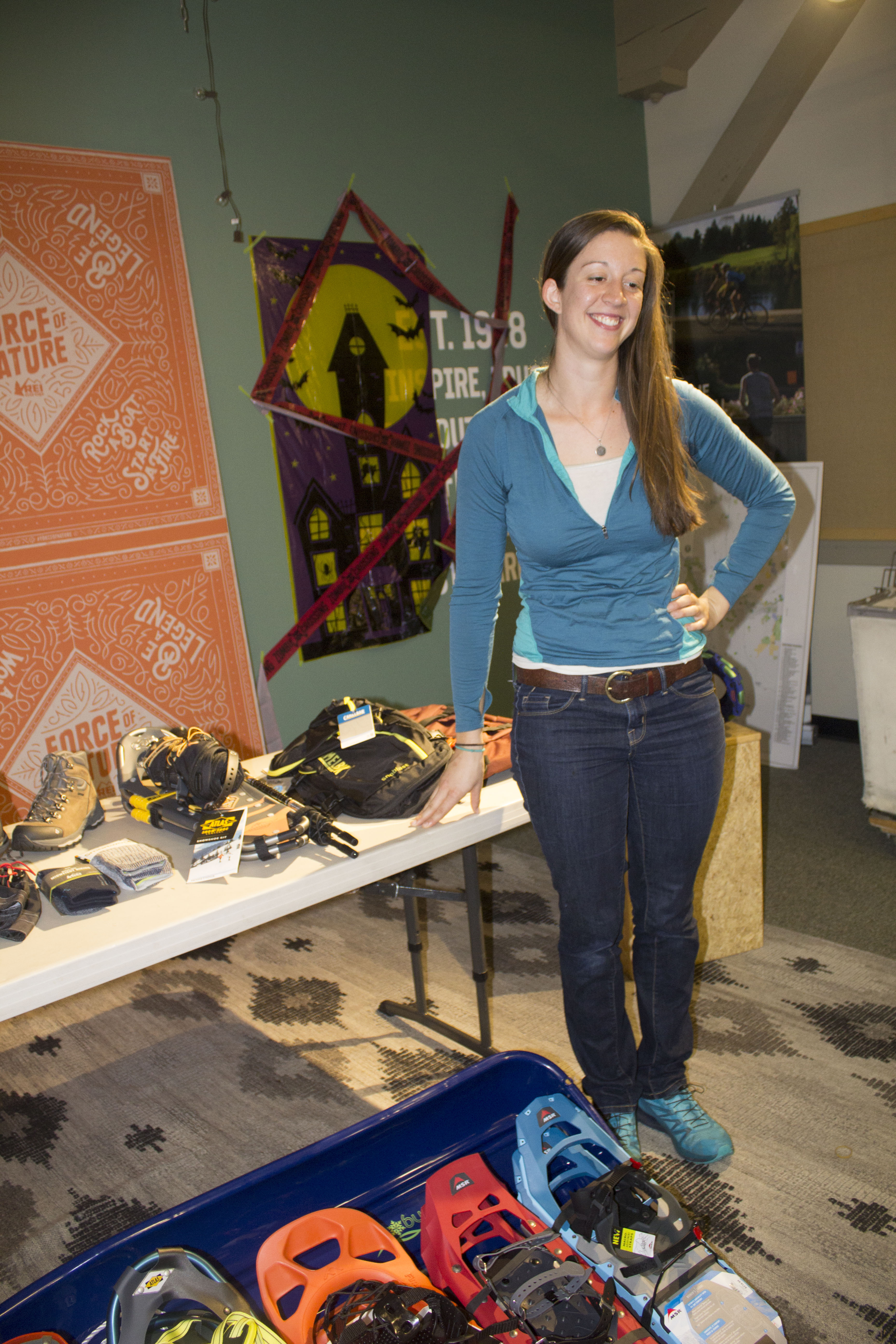 Jenna​ ​Bracken,​ ​REI​ ​Outdoor​ ​Programs​ ​and​ ​Outreach​ ​Market​ ​Coordinator,​ ​went​ ​"snowcaving"​ ​in​ ​college, where​ ​she​ ​would​ ​snowshoe​ ​into​ ​an​ ​area,​ ​build​ ​a​ ​cave​ ​out​ ​of​ ​snow,​ ​and​ ​then​ ​sleep​ ​in​ ​it.​ ​Students​ ​could go​ ​straight​ ​up​ ​a​ ​mountain​ ​in​ ​snowshoes​ ​because​ ​of​ ​heel​ ​lifts​ ​built​ ​into​ ​the​ ​snowshoes.
Spokane​ ​offers​ ​a​ ​wide​ ​variety​ ​of​ ​areas​ ​to​ ​snowshoe​ ​affordably. On​ ​October​ ​24,​ ​REI​ ​had​ ​an​ ​intro​ ​to​ ​snowshoeing​ ​class​ ​that​ ​taught​ ​basics​ ​at​ ​REI​ ​building​ ​on​ ​Monroe: clothing,​ ​how​ ​to​ ​navigate,​ ​where​ ​to​ ​snowshoe,​ ​snowshoes,​ ​avoiding​ ​avalanches,​ ​and​ ​how​ ​to​ ​be​ ​safe. The​ ​class​ ​was​ ​for​ ​beginner​ ​snowshoers.
"So​ ​we​ ​basically​ ​meet​ ​all​ ​these​ ​people,​ ​who​ ​have​ ​a​ ​wide​ ​variety​ ​of​ ​skill​ ​levels,​ ​and​ ​I​ ​basically​ ​just​ ​give 'em​ ​the​ ​lowdown,"​ ​said​ ​Bracken.​ ​"You​ ​can​ ​get​ ​instant​ ​feedback,​ ​and​ ​you​ ​get​ ​to​ ​share​ ​with​ ​other​ ​people too,​ ​so​ ​it's​ ​a​ ​lot​ ​more​ ​interactive​ ​than​ ​finding​ ​out​ ​how​ ​to​ ​snowshoe​ ​online.​ ​That's​ ​the​ ​class,​ ​it's​ ​more present,​ ​experiential,​ ​seeing,​ ​it's​ ​for​ ​different​ ​learners."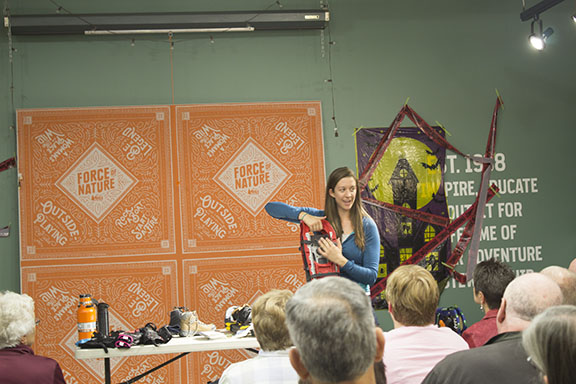 The​ ​"fun-focused"​ ​class​ ​brings​ ​together​ ​fellow​ ​outdoor​ ​enthusiasts.​ ​Bracken​ ​will​ ​be​ ​teaching​ ​a​ ​women's snowshoeing​ ​class​ ​on​ ​November​ ​29.
Mt.​ ​Spokane​ ​has​ ​trees​ ​that​ ​have​ ​blue​ ​triangle​ ​markers​ ​that​ ​are​ ​above​ ​the​ ​snow,​ ​so​ ​hikers​ ​can​ ​know where​ ​they​ ​are.​ ​Snowshoers​ ​need​ ​a​ ​$30​ ​Sno-park​ ​Pass​ ​to​ ​snowshoe​ ​on​ ​Mt.​ ​Spokane.