By Lizzie Nickelson
Oct. 15, Volume 47 Issue 1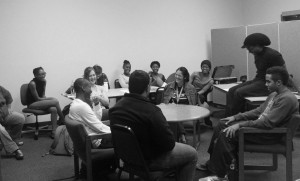 The Multicultural Club focuses on bringing people of different backgrounds and cultures together to create unity in a diverse place.
This club is integrated with other clubs; the Black Student Union, Latinos Unidos de Aztlan [LUA], Red Nation Student Association, and others come together to create unity and fun.
"It's about having fun; it's about creating the fun," said Jeremy Wear, Treasurer for the BSU.  "What you would want to do in college, this is where that happens."
Anyone who is interested in learning about other cultures are welcome. They meet Fridays at noon in Building 17, room 131.  It doesn't matter if you are already a part of a club; if you're interested you're welcome.
"Everyone is welcome," said CanJarri McKinley, club member.  "It doesn't matter what race you are, we want you here."
The activities these clubs range from campus activities to out of state activities.  Many of the activities that these clubs do on campus are not only fun but also benefit others. From taco sales as fundraisers to free Thanksgiving meals, the many clubs that feed into this one help to create unity in such a diverse setting.
Aside from fundraisers they also have speakers come in and give students and community members a chance to listen to what they have to say.  With different backgrounds and different messages every time, the speakers share their talent with students and members of the community.
These clubs also help with the Powwow that the Red Nation Student Association puts on in the spring.  This large event is open to students and the people in the community, showing the talents of those who keep the Native American way of life alive.
"Our Pow Wow is the 3rd largest in Washington state," said the Red Nation Student Association's webpage.  "Drummers and dancers come from all over the Northwest to participate and celebrate our culture."
Anyone can join and have part in this fun.
"It could be amazing," Wear said.  "It has the potential to be amazing."