By Mackenzie Glanville
Oct. 15, Volume 47 Issue 1
CCS men's soccer team members brought some insight to the unity, collaboration and values of the team as a whole.
After winning an impressive and thrilling game 2-0 against Wenatchee Valley Knights on Saturday Oct. 3, CCS Men's soccer players opened up about how they get along as a team, how they like their new locker room,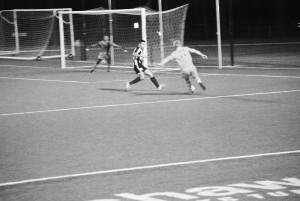 and what life is like for them on and off the field.
Nearly a year ago, the head soccer coach and team planned to renovate the locker room, adding a T.V., an Xbox, and other new equipment. Since Jan. of 2015, the locker room has been slightly remodeled to be more comfortable for the team and benefit them by providing more space for them to hang out together as a team.
"We got a T.V. and an Xbox so we can chill together," CCS player, Eric Sanchez said, "I was promised an Xbox and T.V. in the locker room when I was recruited, and it happened."
Sanchez's teammate, Jared Davis agreed. "It's the best locker room in the game," Davis said.
Off of the field, the team members hangout and interact as close friends, roommates and family. Most of the CCS players live in the same apartment complex near the SFCC campus, which gives them more time and their own space to relate on a social level.
"Living in the same apartments is nice since we get to see each other everyday," Davis said.
"We are all brought together as a family, which really helps," player Johny Cortez said in response to the question of how the team interacts and gets along together, "we're able to go out for team dinners or sometimes just go out with a couple of the guys."
On the field, the guys still go strong as a team and work hard to play the best game they can with the help of their head and assistant coaches, who push them to focus on every detail of the game and improve their skills everyday.
"I could tell there was a big difference and stepped up," Sanchez said. "The small things are what really makes the difference."
At CCS, the guys have an opportunity to advance in their soccer skills and work hard, but also to have fun and be united as a team. The skills acquired on the field, as well as the bonds formed between the players away from the field make them the strong, outstanding and successful team they are.