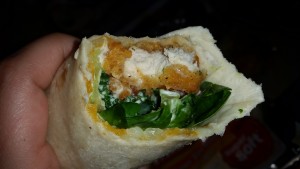 By Kiki Johanson
sfcc.kristina.johanson@gmail.com
A simple lunch that can be taken anywhere that has a microwave.
What you will need:
Kale (1 oz)
Spinach (1 oz)
Iceberg lettuce(1 oz)
Cheese of choice, shredded (1-2 oz)
Cream cheese (one container)
Ranch or honey mustard (two tablespoons)
Chicken strips (one or two)
Tortillas (one)
Steps
First, take your tortilla and spread the cream cheese on it
Sprinkle cheese of choice on tortilla
At this point, if you want a warm tortilla and melty cheese, set tortilla in microwave for 30 seconds (careful, it may be hot when it's done.)
Place chicken strip on a microwave safe plate and cook as directed on its packaging.
While it's cooking, add kale, lettuce, and spinach to tortilla
Remove chicken strip from the microwave and place on other ingredients
Fold like a burrito
Serve immediately, and enjoy!