By Mallory Biggar
Volume 47, Issue 6
When Dave Browning was 19, he turned down an opportunity to be a walk-on at Washington State University and instead went on to play with the SFCC Spartans. Not ten years later, he played defensive end in the 1981 Super Bowl as a part of the first wild card team to ever win the champi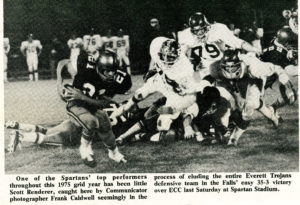 onship.
"Being from a small [division] B school, there weren't any scouts that came to our games," Browning said. "It turned out that junior college was a really good fit for me; coming from . . . a small town, if I had gone to a big four-year college to begin with, I think I would have been overwhelmed."
During his time at SFCC, Browning was selected as the 1975 Spartan Defensive MVP and named to the NWAACC All Star team.
"After SFCC I went to the University of Washington," Browning said. "By that time, WSU was all ready to give me a scholarship, but I wasn't even going to go down there, since they didn't give it to me to begin with.
"I was recruited by University of Oregon, University of New Mexico and University of Washington. I went to the other two schools first, and then flew out to Washington. In the Husky Suite, it's all purple rug with a gold Husky emblem, and I thought, 'yeah, this is where I'm going to go.'"
In the two years that he played for University of Washington, Browning was named a captain of the team, and in 1977 they had a 10-2 season that got them a ticket to the Rose Bowl.
"Coming off winning the Rose Bowl, I was drafted in the second round by the Oakland Raiders," Browning said. "I went in the second round, but they didn't have a first pick, so I was actually their first. I wasn't even predicted to go until the fourth round. It was kind of a surprise, especially since the Raiders had been my favorite team."
On Jan. 25 1981, the Oakland Raiders and the Philadelphia Eagles played in Super Bowl XV. In their twentieth year, the Raiders had a bit of a slow 3-3 start. They lost their division to the San Diego Chargers, but still went into the playoffs as the fourth seed wild card team.
After beating the Chargers in the AFC championship, they went on to the Super Bowl to play the Eagles, to whom they had lost earlier in the season. The Raiders won the game 27-10.
"It doesn't matter what you do in the first six games: it's the teams that build the momentum going into that playoff," Browning said. "That's why we were the first wild card team to ever win the Super Bowl."
After nine seasons of professional football, Browning retired to farm and log with his father.
"It was a great experience, but it was great to come back home and live where I grew up," Browning said.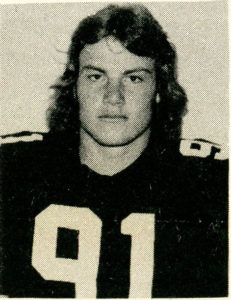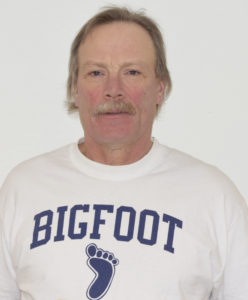 "I went on that journey because I loved football. But between the kids that I grew up with that are still around here farming, and the kids that went to junior college with, those are my best friends."
Though few Spartans went on to play football professionally, many went on to coach, teach and practice law. One player, Ray Conner, went on to work his way up through the ranks at Boeing Commercial Airplanes. In 2012, he was named CEO.
But back in the day, the Spartan men were just students on campus going to classes.
"Football was a big part of the athletics department and a big part of this school; there was nothing like a Saturday night under the lights out there," said Paul Tikker, whose first position in CCS athletics was assistant football coach in 1979. "Something about athletics in general, and football specifically, draws people to the campus. But then once they get in the classroom, you hook 'em.
"A lot of kids, the only reason they step into a college classroom is because they get a chance to participate in the athletics," said Tikker. "For a lot of people, this football program changed their lives, then in return they went on to impact the community. Football was their vehicle."
But ultimately, financial pressure would seal the fate of the Spartans, and SFCC would lose its football program forever.
"The league went from 12 teams, down to eight, down to six," Tikker said. "Schools started dropping out, and it turned out that it was just Walla Walla, Wenatchee and CCS still in the league, so we'd have to go and play four-year schools JV teams. The most reasonable thing to do was park it, and that's what they did.
"Soccer kind of took over that field, and as an old football coach, you've just got to see that things change."
Though the players were the part of the team that score the points, the coaches were the part of the team that got them there. Bob Everson and Dwight Pool, two of SFCC's head football coaches, are remembered as great leaders and teachers.
"When I came in here, I got a chance to coach with Bob and Dwight," Tikker said. "These guys were true professionals, and really the who's-who of coaches for community colleges. I was a 24-year-old young man who got to be influenced by those people, and it was terrific."
"If you take a look at the kinds of things that those players went on to accomplish, it's pretty impressive. They were real teachers of the concept of synergy: that you go further together than you do as individuals. They were . . . turning boys into young men."
Tikker had only positive things to say about the players and coaches, but it is also important to see the program as more than its individual parts, but the sum of them.
"There's so much more to athletics than the wins and losses.They're a product of a whole bunch of people working really hard to accomplish a common goal. But the skill sets that come out of it, you can't duplicate that."
"The idea of discipline and sacrificing yourself for the good of the team, those lessons carry over to make better fathers, better mothers, and better employees."
Howie Stalwick, now a professional sports reporter, worked as a sports reporter for The Communicator in 1975.
"I do remember tiny running back Scott Renderer pretty clearly," he said. "He had great speed, and he was so small, he would just disappear amidst all the linemen, then he'd come flying out of the pack going about 120 miles an hour. Coach Bob Everson was pretty much a living legend. A true tough guy, but he had a heart of gold once you got to know him."
All three head coaches, John Buck, Dwight Pool, and Bob Everson, are now deceased.
"Bob was an excellent coach," Stalwick said. "He truly valued the JC experience, which permitted a lot of kids to extend their football careers a year or two while getting an education. I hated seeing JC football die due to the high cost and Title IX. JC football helped a lot of young men receive a college education and a college athletic experience who otherwise would have experienced neither due to finances, grades, size or whatever."
Few instructors remain from the football days, but one in particular was a regular attendee of the games and supported the team.
"The best argument for it was that people came out. It was this huge campus thing," said Irv Broughton, a film instructor at SFCC who attended many football games. "There would be a lot of people. My kids were very, very small at the time and they'd run around the bleachers. It was a real event center around the school."
Even though he supported the team, he felt that a lot of the CCS community did not.
"There were people around here, and there probably still are, who simply don't like sports. That duality of mind and body. There are people who thought it was crass, and stupid, and worthless. But I think that it is a false dichotomy, [the idea that you can't be intellectual and enjoy football]."
In its 23 years of life, the SFCC Spartan team won eight league championships, became the Sasquatch, fostered the careers of two players that would go on to the NFL, hosted a future Boeing CEO, changed both the lives of the players and coaches, and brought the CCS community together.
According the the CCS Athletic History Highlights, in January of 1990, all but two schools left the NWAACC, and the football program was no more. Though it is gone, those whose lives the program changed will not forget it.