By Trevor Loomis
Nov. 5,  Volume 47 Issue 2
Addictions Studies sheds light on addictions throughout campus.
"The Addictions Studies (AS) program is a nationally accredited program through NAADAC(National Association for Alcoholism and Drug Abuse C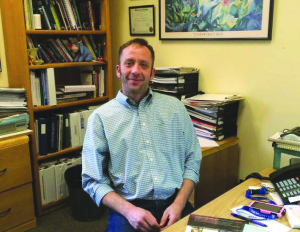 ounselors)", Cory Bromley, Addictions Studies Technician at SFCC, said.
"Students are expected to have a working knowledge of the many aspects of addiction, a comprehensive understanding of the science behind addiction, and a functional foundation of counseling techniques."
The job market for addiction studies is wide open with the addiction touching the life of most Americans in some way.
"The demand for chemical dependency professionals (CDP's) is very high in Washington State.", Ursula Heflick, AS instructor at SFCC said, "chemical dependency is one of the societal problems that challenges society economically and psychologically."
SFCC faculty find meaning in teaching Addiction Studies.
"What makes AS special is knowing that we are helping to prepare students to become counselors who are going to go out and have a real, measurable, positive impact on the community." Bromley said. "It is awesome to watch the students evolve into their professional roles as CDP's."
Bromley continued, "While everyone's life has or will be touched by this disease, these folks (AS students) are the ones who have decided to go out and do something about it. Perhaps unique to our program is an almost universal, personally driven desire to make the world a better place."
One of the challenges a lot of students face when taking Addiction Studies is the wreckage from their own past.
"Many of the AS students have a history of a substance abuse disorder themselves and have had to work their way toward recovery," Heflick said. "Sometimes their paths are complicated by legal challenges they still face. Faculty in the program have an understanding of this and try to assist their students in overcoming those obstacles."
According to Drugabuse.gov, a website dedicated to addiction studies, Substance Abuse Costs Our Nation More than $484 Billion per year and as many as 60% of adults in Federal prisons are there for drug-related crimes."
"I would encourage any and all students to take one of our classes – even as an elective. The information presented in our Survey of Addictions class is not only fascinating, it is information that everyone could benefit from," Bromley said, "Interesting fact: Every 25 minutes a baby is born addicted to opiates.
Bromley added, "This is up 500 percent from a decade ago. Not to mention, in Washington State more people die from opiate addiction than from vehicle related fatalities. All of us can be a part of the solution to problems like these."
A new way of doing things may also come to the AS program, which may include, the freedom from buying books.
"What this means to AS students is no textbooks (woohoo), and a constantly evolving up-to-date presentation of knowledge and data pertinent to the field," Bromley said. "In addition to internships, we have also developed a job-shadowing program that AS students participate in. Between these two programs, a high percentage of students are ushered right into the workforce."